KARACHI: After only a day of recovery, the stocks relapsed into the red on Thursday with the KSE-100 index giving up 75.79 points (0.19 per cent) and close at 40,068.50.
The market remained highly volatile in thin trade as investors were generally disinclined towards fresh positions on political uncertainty. Traders and brokers admitted that the opposition's power show at Gujranwala on Friday captured the investors' interest. The news flow on the subject took them on a roller coaster ride with the benchmark moving between intraday high and low by 389 and 138 points.
JS Global noted that with regards to the Financial Action Task Force, out of a total of 40 recommendations, the Mutual Evaluation Report of the Asia Pacific Group (APG) found Pakistan non-compliant on four, largely compliant on eight and partially compliant on 28. Further updates from the FATF are expected later this month.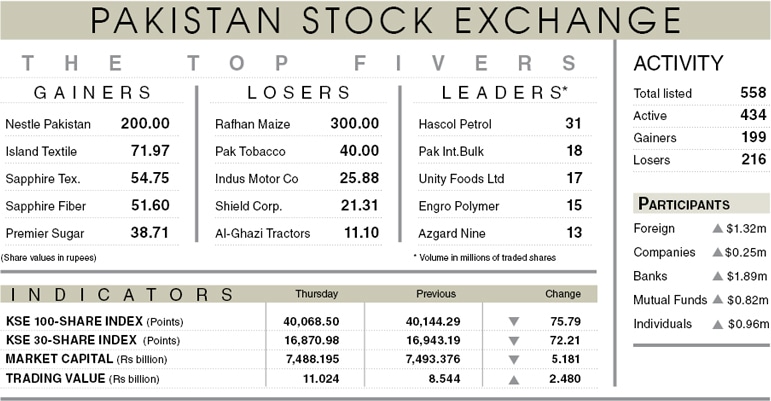 Foreign investors bought shares worth $1.32 million. All local participants took cautious fresh positions except the insurance, which have been the major buyers in recent weeks, offloaded stocks worth a massive $4.97m. Brokers sold shares valued at $0.38m. The volume increased 39pc over the earlier day to 324.8m while traded value also increased 29pc to $67.7m.
Exploration and production and chemical sector posted gains on the back of an increase in prices of international crude as well as expectation of "positive delta" in chemical products of listed entities of the sector, analysts said. Besides Oil and Gas Development Company and Pakistan Petroleum, chemical scrips Engro Polymer and Sitara Peroxide, Descon Oxychem traded at and near upper circuits.
Ansreen Malik on BMA Securities Equity Desk said: "The market has seen profit taking and a sharp resistance at 40,500-level while making a psychological support of 40,000. However, any dips would be good to accumulate banks and E&P sector stocks."
Financials, cement and E&Ps were the major laggards where Habib Bank, down 1.5pc, MCB 0.9pc, Lucky Cement 0.6pc, Pakistan Oilfields 0.7pc, DG Khan Cement 1.7pc, United Bank 0.4pc and Pakistan Petroleum 0.4pc contributed to the negative close.